First off, if it's one thing I learned in very short time, it is that Europe and the rest of the world gets all the best models and colors.
That being said, they are also already privy to the selection of new colors and lure models for 2010. Thankfully, my site members span the globe, and they are usually the first to report such news of new releases. I can't take credit for digging this up, I'm merely reposting what they posted.
Actually, this first part was taken from a recent In-Fisherman magazine, so I guess not all of what I had just said is true. The following are the new models coming out for 2010, that I know of.
Flat Rap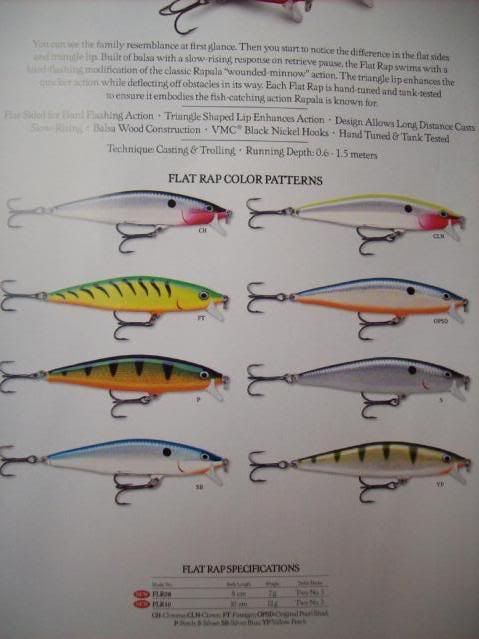 The Flat Rap is a flat-sided lure
with a triangle lip, designed for long- casts, distinctive action, and easy defltection off stumps and rocks. They will be available in 3 1/8 and 4" model, with 12 total colors.








Trolls-To Minnow & Trolls-To Shad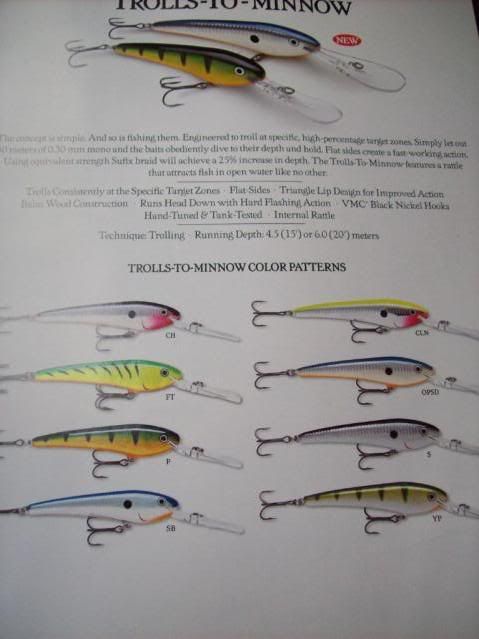 These lures can reach depths of 15' to 20', using 100 feet of 10lb mono. These lures also feature flat sides and large lips, These will also be available in 12 color patterns as well.
Below is a picture of some of these new lures that my friend from Europe was able to acquire already; you can see in this photo pics of the Trolls-To Minnow in 15 & 20, as well as a Perch Flat Rap.


I also have some photos below that were taken from the 2010 Rapala Master Catalog in Europe. Also new for 2010 is the 'Max Rap', which to me looks like a much larger version of a Yo-Zuri Crystal Minnow.
Below is the write up as it displays in the catalog:
"Tip to tail everything about the MaxRap is premium. Designed for maximum casting distance, the MaxRap features an aerodynamic shape that combines with its patented internal MaxCast mechanism to deliver unbelievable distance in every cast. Complimented with every imaginable maximum feature like laser engraved scales, VMC Spark Point hooks, and superior quality components. Rip it for darting, wild searching action or straight retreive for hard flashing 'wounded minnow' Rapala wobble. "



Internal MaxCast mechanism / Balanced with tungsten balls for MaxCasting distance and accuracy / Aerodynamic body shape /
Internal laser engraved scales / Premium Spark Point nickel VMC hooks /
Suspending / Oval line tie / Deep 3D holographic eyes /
Hand tuned & tank tested / Running depth = 0.3-0.6 meters
MXR13 / 13cm / 3 No.6 hooks / 8 color patterns:
FAYU - Flake Ayu
FG - Flake Green
FHC - Flake Hot Chartreuse
FRH - Flake RedHead
FB - Flake Blue
FPGH - Flake Purple Ghost
FS - Flake Silver
FHS - Flake Hot Steel


And lastly, below are some new color patterns available in the Team Esko,the Mini Fat Rap, which is also alive and well in other parts of the world, and new patterns available on the Sliver.
New Team Esko colors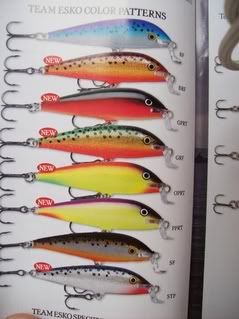 I hope you enjoyed this little sneak peak into what is coming in the near future for Rapala, I will supply more information as I can get it. For more info on Rapalas like these and other cool stuff, before sure to drop by RapalaNation!